All-Natural
Double Cheeseburger Pizza
Mozzarella and Cheddar Cheese mix on a Ketchup base, topped with All-Natural Ground Beef and sweet Red Onions, drizzled with Thousand Island Sauce and finished off with fresh diced Roma Tomato.
Introducing our NEW
Spinach Garlic
Chicken Pizza
Creamy White Garlic Sauce, Mozzarella Cheese, Baby Spinach, Grilled Chicken, Marinated Artichoke Hearts, Red Onions, Cooked Diced Tomato and Chopped Fresh Garlic
Try one of our Four NEW
Rosemary Potato Bacon
Creamy Pesto Artichoke
Grilled Chicken Spinach
Fiery Pepperoni Bacon
Fresh, bold flavors.
Serves approx. 2 persons. No topping substitution.
Now Hiring
Become a "PIZZA" the pie!
-->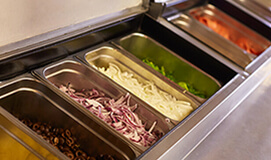 Build Your Own
Try something new every time with over one million combinations.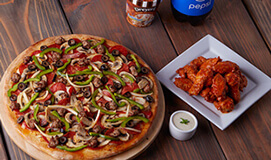 Specials
Save big on all your favorite Pizza Guys food. Check out our Specials page.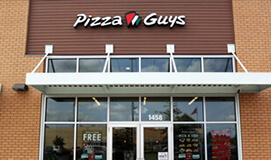 Locations
60+ locations to serve you. Find your favorite Pizza Guys using the store locator.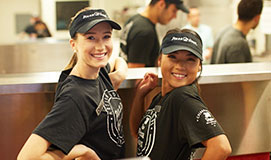 Careers
Got what it takes? Apply now and be part of the Pizza Guys Family!
Friendly Pizza Delivery
Order Pizza Guys for lunch, dinner, or late-night delivery anytime. We have 60+ locations available to serve you – hot, fresh and artisan made.
Party Time?
Don't know how many pizzas are enough? Don't leave anyone hungry. Use our pizza calculator to help you plan the ultimate feast!